Lauren and Maria Paula, of the historical and cultural component of the project, are recently back from a three-week scoping trip in Colombia to the Boyacá departamento (or department, similar to a UK county), where our research will be focused. The days were long and intense and the travelling non-stop, but it was extremely fruitful and inspiring. We met with some wonderful people, saw a cross section of the beautiful landscape, learnt more than our brains could hold and clarified our focus.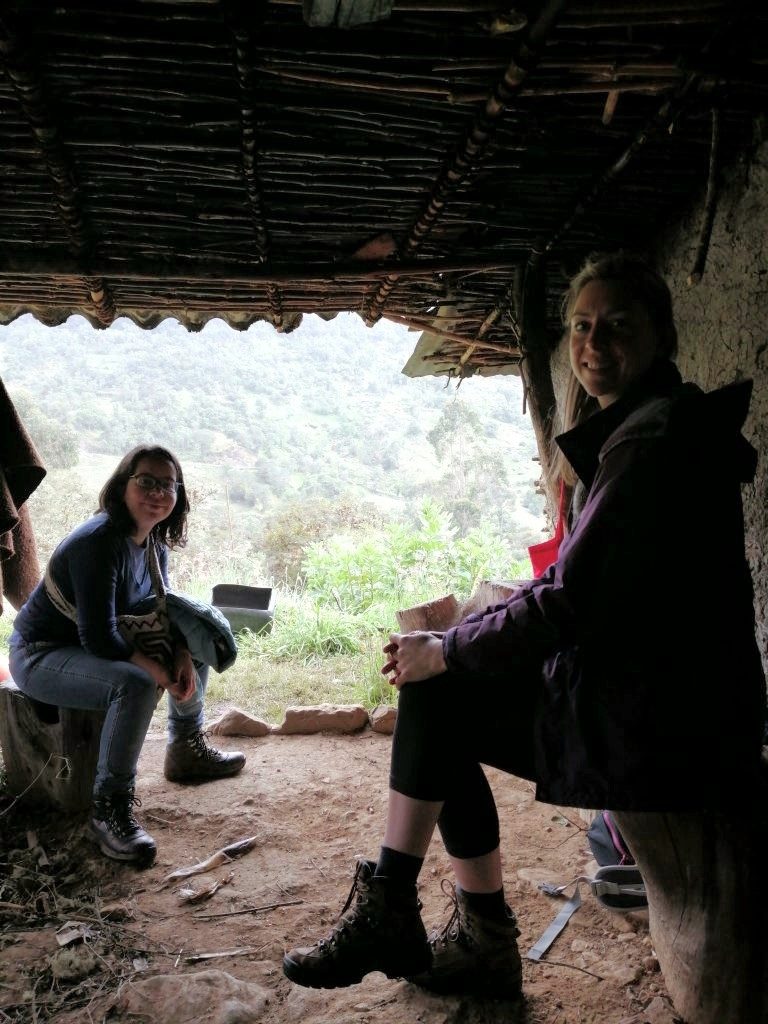 The aim of our component is to research the relationship between the people and their environment and the challenges and tensions of the conservation strategy of páramo demarcation. Páramos are individual ecosystem sites that also configure a wider unitary ecosystem called a "complejo" (complex); Boyacá has 6 complejos (see map below). While this horizontal differentiation follows natural fractures in the landscape, páramo conservation policy has sought to demarcate each complejo – and sometimes each páramo – on a vertical line, on the premise that the key plant and climate features of a páramo begin at an altitude of 3,000 meters. This vertical demarcation determines a physical frontier to economic activities including crop and livestock farming and has therefore been a matter of contention for its implications on people's livelihoods. Furthermore, not all people perceive, categorize or describe the páramos in this way.
Our research seeks to map the key historical and contemporary socio-environmental contexts of these tensions and, in this scoping trip, we wanted to select specific areas that illustrate the multiple legacies of a variety of social, economic and political conflicts as well as make more informed decisions about the research methods to use. The strategy was to visit as much of the region as possible, see the environment first-hand and speak to a variety of actors (national institutions, local government, inhabitants and campesinos (peasants) of the páramo regions).
Upon arriving, we spent a few days in the capital, Bogotá, acclimatising, sorting practicalities and meeting with and interviewing people in national organisations and institutions. This included the Humboldt Institute, the Sociedad de Agricultores de Colombia, and a number of social science academics. The Humboldt is a publicly funded research Institute responsible for studying, classifying and, more recently, providing the evidence on which the Ministerio del Medio Ambiente (Ministry for the Environment) officially demarcates the páramos. The Sociedad de Agricultores de Colombia (SAC) is the agriculture union of the country (mainly dealing with conventional and industrial production), with whom we spoke about the historical and contemporary legislation relating to the páramos and farming. The social scientists from the National University of Colombia shared their knowledge about the páramos and Boyacá and provided feedback to enrich our project.
We then travelled to Boyacá, and its capital, Tunja, where we spoke to officials responsible for agriculture and environment policies at the Gobernación (departmental government office) and Corpoboyacá, an autonomous environmental authority that implements regional policies and programmes on sustainable development and renewable natural resources. Aside from an overview of the diverse and complex regional situation, these meetings set us up for the next leg of visits to the rural areas to speak to the inhabitants and campesinos of the páramos. In Tunja we also met with a local member of Dignidad Agropecuaria, a non-profit national union for the country's campesinos, but this was once we came back from the rural expeditions.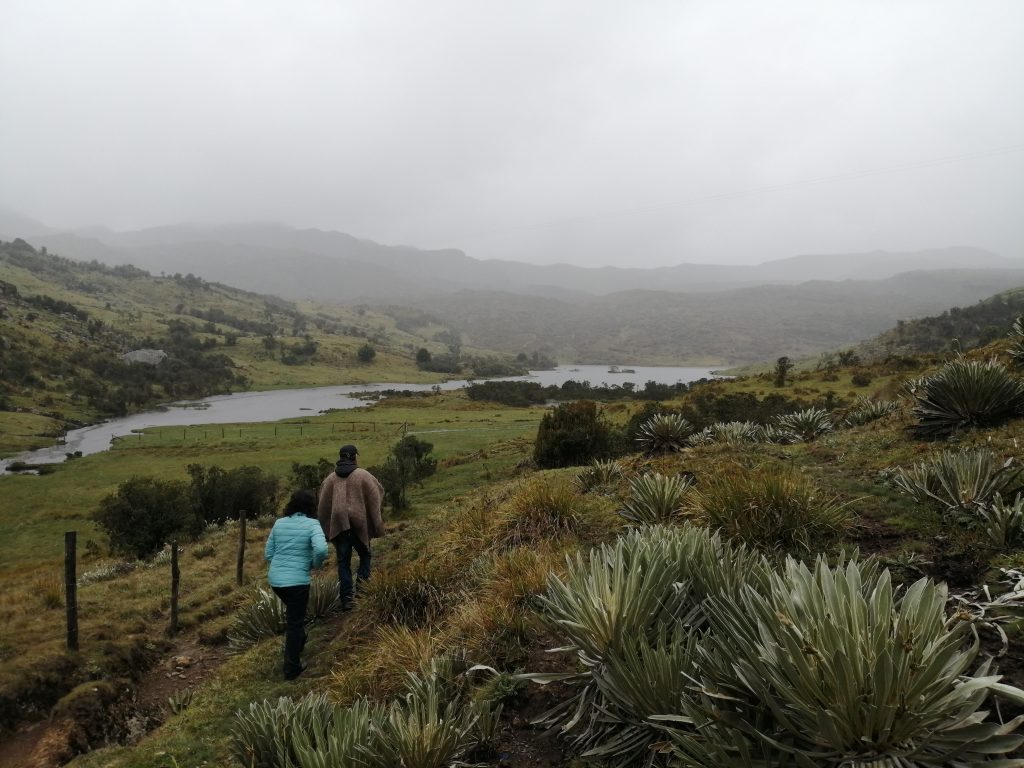 To see as much of the mountainous and extensive department as possible, with an area of 8,953 miles (23,189 kilometres) squared, we embarked on a whistle-stop tour, visiting a different area each day and climbing up into the páramos of each place. We started in the lower north eastern areas of Socha and Tasco, in the complejo of Pisba, then moved a little south to Mongüa and Monguí, in the complejo of Tota-Bijagual-Mamapacha. Moving south west into the central part of Boyacá, still in the complejo of Tota-Bijagual-Mamapacha, around the Tota Lake, we visited Aquitania and Pesca, then Toca and Siachoque. Moving west, next was Arcabuco and Cómbita, in the complejo of Iguaque-Merchán. Finally, we went south to Samacá in the complejo of Rabanal y Río Bogota. There were two complejos that we did not visit: Cocuy, where armed actors are still active, and Guantiva – La Rusia, the research focus of PARAGUAS, another ColombiaBIO project. Our colleagues are investigating conflicts around water in this area and you can learn about some of their work here.
For each visit we had a local guide or key contact, nearly all identifying as campesinos (peasants) themselves, but others were local activists, community leaders and environmental specialists, thereby providing us with a range of perspectives. Each one described the main local challenges, the defining political, economic, social and environmental changes over time and how these have affected the landscape and livelihoods. They took us on walks through some of the páramos and helped us to meet and talk to campesinos – this was crucial, in order to understand the campesinos' lives, their relationship with the páramo land, and their experiences of environmental and social change.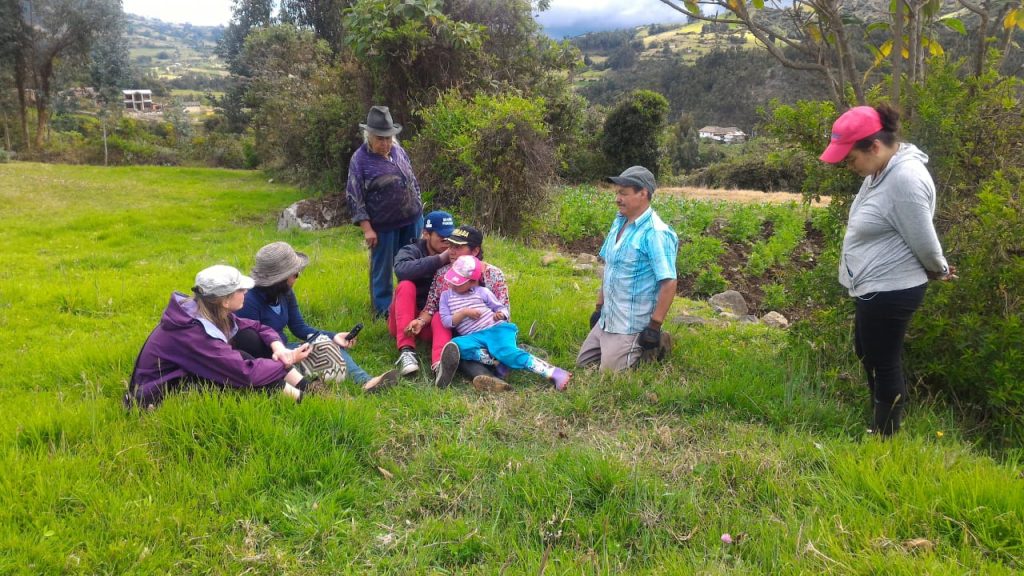 Each region we visited was typified by different economic activities, local histories, landscapes and challenges. These included:
ecological and social tensions over mining (industrial and artisanal)
pressure to move towards tourism, often eco-tourism
small scale, semi-subsistence mixed (crop and livestock) farming
small scale, intensive commercial farming (predominantly crops)
larger, intensive, monoculture commercial farming (onion)
During our time there, we began to distil some insights that are informing our next stage of research. One of these is that the armed conflict is not as obvious on the landscape as we expected. However, its underlying causes around land and livelihoods are still a source of tension and the opportunities opened up by the peace agreement to access land for conservation or natural resource exploitation purposes are not only challenged by these old and unresolved tensions, but might in fact be generating new ones.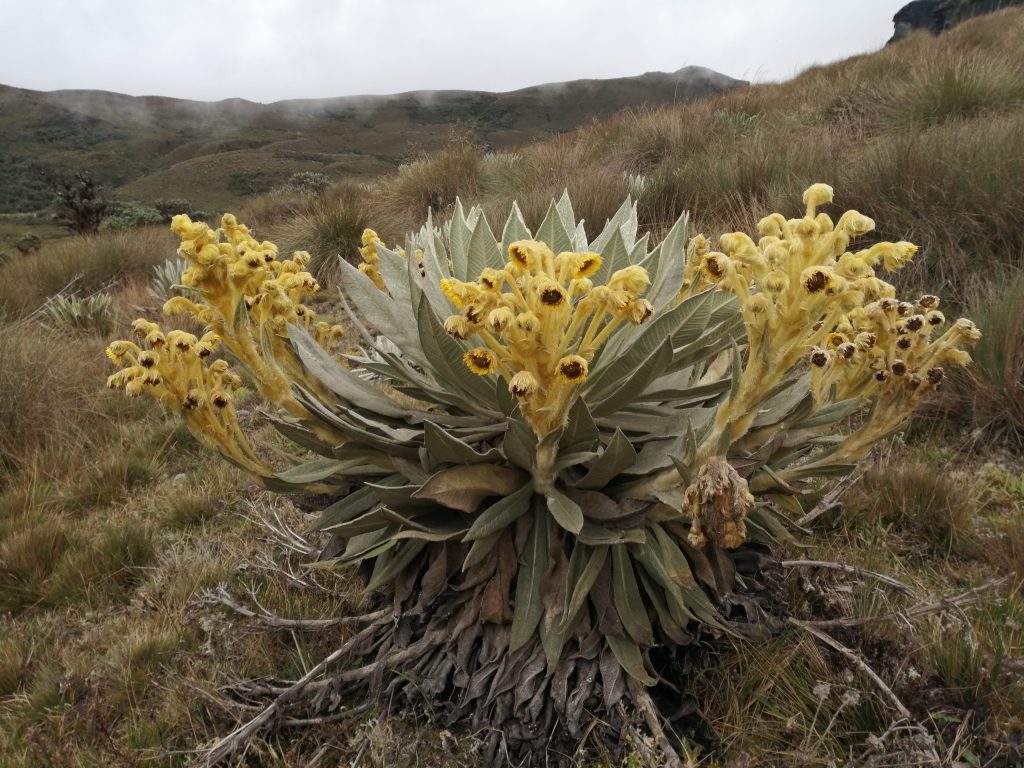 Thus, our next task will be to flesh out the diversity of conflicts in the páramos of Boyacá to interrogate on one hand the public policy idea that the páramo communities, problems and solutions are homogeneous; and, on the other, the very notion of "post" in the formal context of post-conflict. Through a mix of methods (including interviews, focus groups, participatory workshops, photo-voice, story maps, GIS, participant observation) we will focus on identifying:
the multiple and interconnected conflicts that need resolving if the ecosystem-livelihoods tension is to be addressed
the new conflicts that seem to be emerging from the delimitation process and its implementation
the daily, real life experiences and disparate challenges of the campesinos and how this relates to (or is disjointed from) the concerns and focus of local and national government
the different concepts and spatial understandings of what constitutes páramo land and what it means to different people
how the activities, changes and challenges fit into wider global trends of climate change, urbanisation, farming and food production and commercialisation
The next field research trip will crack on with formal data collection and is planned for the autumn/winter, so watch this space!
Authors: Lauren Blake and Maria Paula Escobar-Tello